...because the amazing black belt of words,
Ali Cross
, will be here to celebrate the release of her novel, Become. You don't want to miss my interview with her or the daily giveaways. It's going to be a lot of fun!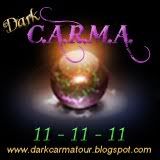 Also, check out the four other authors she's debuting with over at
Dark C.A.R.M.A
. 11/11/11 is going to be a spectacular day!
(I'm on holiday so forgive me for not replying over the last week.)